Jun 04 2015
Microsoft Exchange 2010 uninstall wizard throws some errors unless you previously go through the following steps.

⚠ This will remove all mailboxes, contacts, etc…! There's no way back ⚠

We assume this is the last Exchange server. If not, be more specific on mailboxes to be removed, with -database for instance, or -server on connectors.

Remove user mailboxes but not AD user accounts!
Get-mailbox | disable-mailbox

Delete arbitration mailboxes
Get-Mailbox -Arbitration | Disable-Mailbox -Arbitration -DisableLastArbitrationMailboxAllowed

Remove offline address book
Get-OfflineAddressBook | Remove-OfflineAddressBook

Remove connectors
Get-SendConnector | Remove-SendConnector

Finally remove Public folder. This is a little bit tricky since Exchange does need one public folder database.
It can be removed with the tool ADSIEdit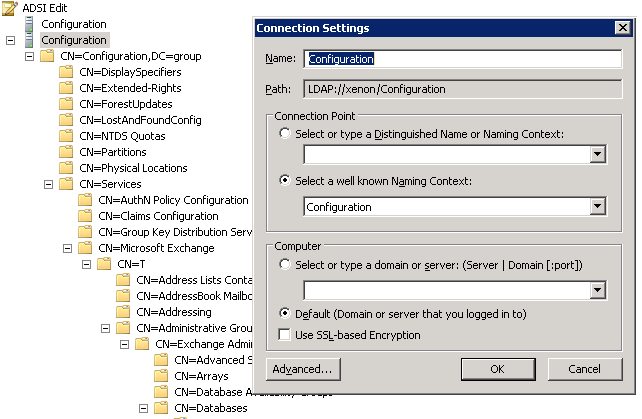 Run ADSIedit
Right click on Configuration and Settings…
Under "Select a well known Naming Context:" choose "Configuration"
Then browse to:
CN=Configuration,DC=DOMAIN,DC=LOCAL
CN=Services
CN=Microsoft Exchange
CN=EXCHANGE_ORG
CN=Administrative Groups
CN=Exchange Administrative Group (FYDIBOHF23SPDLT)
CN=Databases
CN=PUBLIC_FOLDER_DATABASE

Now you can delete the Public Folder Database and uninstall Microsoft Exchange 2010 with no hassle.
Leave a Reply